President's Message – Job Fairs
Cooperation between NECA and IBEW is one of the keys to our success on the job site, but that's not the only place.
Over the past year or so, our brotherhood has been working hard with our partners at NECA in another important area – growing our work force.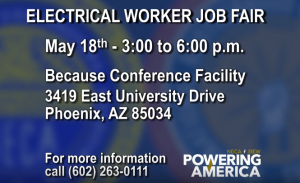 In the last year and a half or so, we have had 46 job fairs in markets large and small…reaching into virtually every corner and coastline of our country.
In fact, by the time you see this, I'm sure we will have had a few more.
And virtually without exception, they have been extremely successful in taking craftsmen away from non-union shops, and turning them into IBEW members.
There are a couple important things at work here…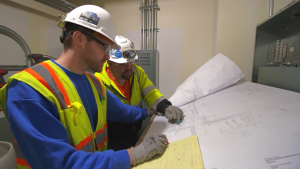 Number one, when our NECA contractors and leaders on a local level join forces to promote our industry, it's a very effective message. We advertise our job fairs on local television, radio, and via social media to ask experienced workers to meet with us at a predetermined time and place.
Once there, these prospects get the chance to visit with members the local to see what we have to offer. And, at every single job fair, contractors are also on hand to hire people on the spot.
Another important point not to be overlooked is this:
There are many talented people out there who would love the opportunity to join our brotherhood…they just need to know we want them, we need them, and that they are welcome.
It's a formula that has worked. This job fair effort we are in the midst of has resulted in several hundred new members already.
…And we are just getting started.
It's a good thing when the talented craftsman or woman down the street is no longer working for the competition, but alongside us.
Let's all remember the IBEW constitution says our mission is to include all electrical workers into our brotherhood. It's a goal we need to continue to strive for.
One worker at a time.
(676 views)