One of the cornerstones that the IBEW was built on was, and is, brotherhood. We are all brothers, first and foremost, so when an Inside Local gets the chance to help out an Outside Local, they jump at the opportunity.
In this IBEW Hour Power Feature, IBEW Local 68 out of Denver is wiring the new training center of Denver IBEW outside local, Local 111. IBEW Local 111 was confident that IBEW Local 68 would do the best work because they fully understand the training and dedication to excellence that all IBEW brothers and sisters turn out with.
Take a virtual tour of this new facility and see the power behind the brotherhood in this feature on IBEW Hour Power now!
To download this video, click here.
Transcript: Mountain States Line Constructors Training Facility
Welcome to the Mountain States Line Constructors Joint Apprenticeship. This brand new facility will train the best lineman in the trade. When finished, they will go on to work not only here in Colorado but in Idaho, Montana, Utah, and Wyoming.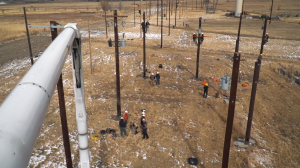 There have been higher demands for well qualified linemen and this facility is now up and running to meet that demand and turn out the best of the best.
Sean McCarville: International Rep., 8th District
"As were constantly trying to meet the needs of the outside line industry such as gas, traffic signal, street lighting, craft certifications. We needed a larger training space through out three regional training centers. In the design of this training center, several areas were encompassed. Right now we are in an auditorium that has stadium seating to better accommodate visual and audio communications from instructors to the students and vice versa. We also have more traditional flat classroom space that can be split into two different parts. One of the nicest features is an indoor lab where the transformer simulator can be used."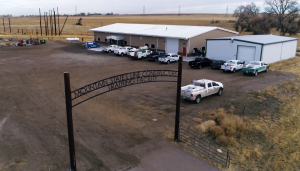 We're here in Brighton, Colorado to get a look at Local 111's new training facility. Not only is this center incredible but it's a story of brotherhood. One INSIDE local wiring OUTSIDE locals new facility.
Eppie Martinez: IBEW Local 111, Business Manager
"To have one local working with another local in a facility like this is like having our brothers work in our house. We are in great hands; I know everything is going to be done correctly and right the first time."
Tyler Rende: General Foreman, IBEW Local 68
"It makes going to work that much more enjoyable. It really does. I'm proud of building something for the brotherhood out here and build them a facility that they can continue the future of the trade."
Zach Buchalew: Journeyman Lineman, IBEW Local 111
"I think it's great, we are IBEW and all about solidarity and brotherhood. Anytime we can keep our work union I think it's amazing."
Peter Awok: Journeyman Electrician, IBEW Local 68
"Working for another union we know and understand the brotherhood. There's a mutual respect and a mutual pride for working for another local."
Ben Johns: Journeyman Lineman, IBEW Local 111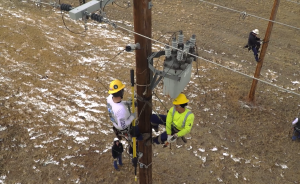 "They did a great job, it's beautiful and it will make our lives a whole lot better."
The new facility not only has apprentices excited to learn but experienced journeymen lineman ready to teach the next generation.
Zach Buchalew: Journeyman Lineman, IBEW Local 111
"This lab right here, it will be huge for us we are going to have an indoor simulator so the guys can actually do hands on hookups. That will be huge for them."
Jordan Cohn: Journeyman Lineman, IBEW Local 111
"I'm excited about this facility because it is very up to date, very tech savvy per say. We now have areas where we can house all the students in one classroom without having to break them into two different areas. It's a brand new facility with stadium seating. It's going to be a thrill to start teaching here."
Ben Johns: Journeyman Lineman, IBEW Local 111
"We've got more space for our kids, better screens. We just walked through all the technology and it's a really nice facility. It will help us help them I hope because they will all be able to hear and see and we will have enough room for all of them when we get our classes."
Because at the end of the day, it still comes down to the foundation. How well you are trained means everything.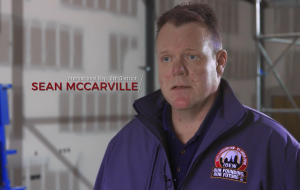 Sean McCarville: International Rep., 8th District
"We see the training as our separation from the competition on the union side. The one area where the IBEW and NECA contractors come together is in the training. With this facility it is our goal and ambition that we have the most competent and trained workforce in the world. Let alone having something that we can show this customer base as limited as it is, the facility that accommodates this."
Reporting for IBEW Hour Power, I'm Erica McClaugherty.
(3262 views)