When an IBEW Low Voltage Tech does the same maneuver over and over, dozens of times a day and hundreds of times a week there is one thing they don't want to worry about. And that is making sure that their tools are up for the task.
At the Klein Cutlery facility in Bolivar, NY, Klein makes scissors, shears, Electrician's Scissor, and knives – and they do it with quality, pride, and tradition of excellence so that every IBEW member in the field can feel confident that their tools are made to last.
Quality, pride, and tradition of excellence. The same values that every IBEW member lives by are the same values that the employees of Klein Cutlery embrace every day. So the next time you pick up your Klein Scissors, remember that values you live by are the same values that these shears are made with.
The IBEW Hour Power crew was able to talk with the long-time employees of Klein Cutlery and hear what they think about "American Made", what Klein Cutlery means to a small town like Bolivar, and their love for their jobs.
Mark P. Klein: President of Klein Tools
"Originally founded in 1952 this facility has grown from five men who turned out about 600 pairs of shears of per week to a leading manufacturer of scissors today. And these shears are being made right here in Bolivar, New York but it's not done by machines, but by the art and craft of our employees that work here today."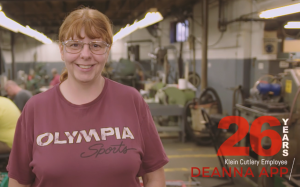 Deanna App: Klein Cutlery Employee
"I'm Deanna App and I'm a sander. I've been here for 26 years. I work on it like I would buy it for myself. If I don't like it I would fix it to the way I would want it myself. We should take pride in it, what's the point of doing it if we can't take pride in it? I'm proud to be American and I'm proud we do things in this small town and keep it goin'."
Danny Tompkins: Klein Cutlery Employee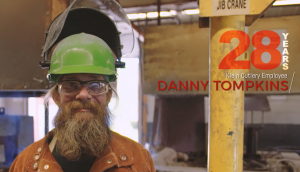 "My name is Dan Tompkins and I'm a heat treater for Klein Cutlery and I've been here for 28 years. That is my pride to see my tool in the field! Everybody works well in this plant, you couldn't ask for a better group of people. I like this company it has done well for me. I have grown a family; I have them all in town. There's not much in this area for work and I believe American pride is where it's at. It keeps our families in this small community surviving."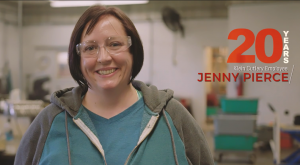 Jenny Pierce: Klein Cutlery Employee
"Hi, I'm Jenny Pierce and I'm an assembler and I've worked for Klein Cutlery for 20 years. American Made to me means quality. It's a good product that you are willing to spend money on that will last quite a few years. I think it's important that the customers are getting what they are paying for. They are getting a quality product for the price they are paying."
Robert Pierce: Klein Cutlery Employee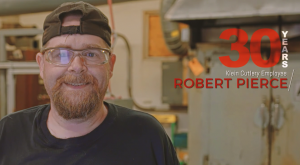 "I'm Robert Pierce, I'm a coder and I've been at Klein Cutlery for 30 years. American made means quality, craftsmanship and it is more jobs here instead of overseas. Our quality is top notch; we don't put out a bad product. It's heavy-duty material that is made to last. I have a sister, a brother, and a cousin that all work here. It's been good for our family."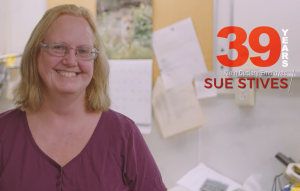 Sue Stives: Klein Cutlery Employee
"Hi my name is Sue Stives and I'm quality control inspector and I've worked here 39 years. It's important that everything goes out the door with pride. I do take pride in what I do yes. You gotta love your job, be happy."
Rick Gould: Business Unit Manager, Klein Cutlery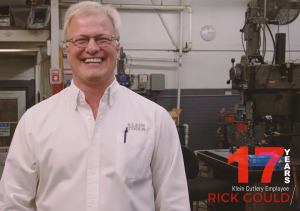 "Hi I'm Rick Gould, Business Manager of Klein Cutlery for 17 years. Our team knows that the future of our company is based on our customer's success and happiness with our product, so everything we do is based on making sure that customer is at the top of the list."
Mark P. Klein: President Klein Tools
"I believe that this company is the future of American-made… it's vital to the economy and the people in this community and we have a lot of employees employed here and it's all about making quality products right here in the USA."
(577 views)